Capheine's Vocal Editing Process
Introduction

Things You Will Need
1. Microphone w/ mic clip
Try to get a dynamic uni-directional microphone that is at least $25, if you are money-cautious. A good frequency is somewhere around 80Hz-12kHz. To hear samples of this process being used on different types of microphons, so commonly used microphones are listed to the right under Audio Samples; the ZIP file will contain a before and after audio sample.
2. Cables
Probrably the most confusing piece of equipment to most people. If your mic has an XLR output, you will need a "female XLR to 3.5mm" cord to hook your microphone to the computer. If your mic has a 1/4" output, you will need a "female 1/4" to 3.5mm" cord or adapter to hook your microphone to the computer. If you record in a room seperate from the room your computer is in, invest in cables around 20 or so feet.
3. Headphones
Not your rinky dinky stereo headphones you hook to a walkman, but get some that have ear cusions and comfortable fittings. I use KOSS TD-61 Headphones. You can find these in Wal-Mart for $18.
4. Krack_Rock's Ghetto Popper Stopper
Not the real thing, but it works when you say words or syllables that begin with P or B. To make one, take a coat hangar and unfold it so it has NO shape. Now shape it into the shape of a lollipop turned in a 90º angle (like this shape: O––). Put the O in front of your mic and wrap the remainder of the –– stem around your mic stand. Now stretch women's stockings over the O and tie it with tape on the end. Examples below.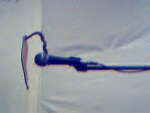 5. A Microphone stand
No explaination needed. I know alot of cats say they don't use a mic stand, but it is very important for your body and the microphone to be in a still position during recording. You don't want your volume going in and out because your position between you and your mic changed during recording.
 
Recording Tips
When you are recording with a dynamic microphone, ALWAYS keep a clean distance away from the mic. This helps ensure that your breathing patterns will not be picked up heavily on the microphone while recording; a good distance is around 3 inches from the mic.
While recording, it is a good idea to wear headphones. It is very unprofessional to be able to hear the beat in the beackground of an acapella. To eliminate this, wear cushioned headphones and turn the volume, of your computer, up slightly enough to the point where you can hear the snares and melody in the beat, but your microphone doesn't pick it up.
I personally, wouldn't be able to live without my Krack_Rock Ghetto Pop Filter. It blocks your exhaling breaths from hitting your microphone when you say syllables or words that begin with the letter P or B. Usually, this would make a "pop" sound; hence the name, Pop Filter.
 
Pre-Recording Tips
Before you record, make sure the following settings are taken care of:
- Your headphones are plugged in
- Your speakers have been unplugged or turned off
- Your microphone is on and plugged in
- All loud background noises and sounds are gone(TV, radio, games, etc)
- Your mic stand and pop filter are adjusted for your recording room
- Your Volume has been lowered to fit Paragraph 2 in Recording Tips
- Your body is a safe distance from the microphone
- Your microphone's volume is set properly(see below)*

* To set your microphone's volume for recording, you must first goto your Sound Properties. To do this, drag your mouse to the system tray of your taskbar and find the small, yellow speaker icon that says Volume when your mouse is over it. Double-click that icon and new window should pop up saying "Volume Control" in the title bar. In that window, goto:
Options > Properties > Recording
Uncheck ALL the items except Microphone and press OK. Now a new window called Recording Control should show with only 1 item to adjust, Microphone. Set its volume right between the 3rd and 4th lines nearest to the bottom of the volume meter. If you are confused, an example is shown below.

Now you are ready to start Cleaning Your Vocals!